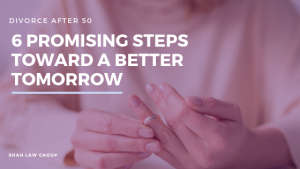 I represent people of all genders and ages in their divorces. And if I've learned one thing, it's that no client is the same.
In my experience, however, women in their 50's or older struggle the most with divorce.  
In general, these are women who have been married a long time. Her life plan was to stay home and raise their children and take care of the household.  
Once the children grew up and were off to college or otherwise living on their own, she might get a part-time job while she continued to manage the house and looked forward to grandchildren and the day her husband could retire.
This life plan is completely derailed when her husband files for divorce.  Or in some cases, the marriage has been so abusive or unhappy that the wife has no choice but to file for divorce herself.  In either scenario, she is devastated. She feels hopeless.
What is a woman who is completely financially dependent on her spouse to do?
I will tell you exactly what to do in these 6 steps:
Step 1: Hiring an Experienced Divorce Lawyer
It goes without staying that the first thing a woman should do is hire an experienced divorce lawyer.  
A divorce lawyer is your advocate.  They can tell you what your rights are and what to expect.  They will give you direction and tell you what to do next.
I've been told on numerous occasions by women after an initial consultation that they feel so much relief about their situation after meeting with me.  
Even if you feel you can't afford a divorce lawyer, at least meet with one for a one-time consultation.  
Here are some questions you should definitely ask the lawyer during your consultation:
Am I entitled to support?  If so, how much?

Does my husband have to pay my attorney fees?  

What are my rights with regard to the marital residence?

Is there anything I should be doing right now?    

What is your retainer, hourly rate, and/or fee structure?  
It's helpful to prepare a list of your questions before you meet with the lawyer.  That way, you won't forget to ask something.
Step 2: File for Spousal Support or APL
Your divorce lawyer probably already gave you a good idea of how much Spousal Support or APL you are entitled to at your initial consultation.  
By the way, Spousal Support is support that the financially dependent spouse is entitled to once the parties have separated.  APL (Alimony Pendente Lite) is support the financially dependent spouse is entitled to once a divorce complaint is filed and you've raised a claim for APL.  
There are some differences between Spousal Support and APL, but they are calculated in the same way.  
Once you've hired your divorce lawyer, the first thing they will do is file for support and schedule a court date.  
Step 3: Prepare for Your Spousal Support/APL Court Date
Support is calculated based on the net incomes or earning capacities of the parties.  A person's earning capacity is essentially the most a party can earned based on their education, skill and experience.  
Earning capacity is often an issue for financially dependent women in their 50's, particularly if they are not working at all or are working part-time.
For many women, they have advanced degrees, or made significant income before they started having children.  
The courts will explore whether support should be calculated based on the most income the wife has ever made, or whether she is able to work full-time.  Typically, when a wife has been out of a certain field for many years, courts will not calculate support based on her highest earnings.
However, talk to your divorce lawyer about strategy with regard to an earning capacity issue. Also talk to your divorce lawyer about asking the court to order your spouse to pay your attorney fees.  
Here are some things you can do to help prepare for your support case:
If you have them, bring your last 3 years of tax returns to your first appointment with your lawyer

Give your lawyer your current pay stubs if you are working

Give your lawyer copies of your husband's paystubs, if you have any

Be prepared to talk to your lawyer about your education and employment history.  If you have one, bring a current resume to your appointment.

Do you have any extraordinary expenses? If so, bring them to your lawyer's attention.  
Step 4: Start Planning for Your Future
The divorce process can take a long time, sometimes years.  
One mistake I see women make is that they wait until the divorce is over to start thinking about and planning for their future.  
Now is the time to start asking the tough questions.
Can you afford to live in the marital residence based on the support you receive and the income you're making (if any)? If you can't afford it, what kind of job can you get?  Is it possible or feasible for you to go back to school or obtain some vocation training? If so, can you start right away?
Women have to use the time while their divorce is pending, and while they are receiving Spousal Support or APL to start thinking about and acting on a plan for their future.  
Not only does it make sense financially,  but showing the court that you have a plan will strengthen your claim for alimony.  
Step 5: Finalize the Divorce
Most divorce cases settle without going to court.  This means that the parties reach an agreement on how to divide their assets and debts and alimony.  
By going to court, it means that a judge decides.
There is preparation involved whether you settle or go to court.  This means that assets have to be valued and documents have to be exchanged.  
Here are some things you can do to prepare for your divorce case:
Gather information on assets – In addition to tax returns and pay stubs, your lawyer will need to see documentation of all assets, such as retirement accounts, bank accounts, vehicles, etc.

Gather information on liabilities – give your lawyers documentation of any mortgage, car loan, or other liabilities you might have

If there is a marital residence or other real property, ask your lawyer about getting these assets appraised.  
Step 6: Shoot for the Stars
Whether you settle or go to court, your goal is to get the most assets you can get, and the most alimony you can get for as long as you can get it.
In PA, the court has to look at many various factors in determining how assets should be divided and whether alimony should be awarded.  
The fact that a woman has been a homemaker and raised children while her husband worked outside the home, and that the parties have been married a long time, typically favor a skewed distribution in the wife's favor.  
Alimony is often favored for the same reason.  Talk to your divorce lawyer about what you should ask for and what you should expect. Remember that in the eyes of the law, your contribution to the marriage as mother and homemaker has value.   
You can do this!
Although financially dependent women in their 50's struggle initially with their divorces more than anyone else, they are the ones, time and time again, that I see come out on top.  
They work harder than anyone else and are always more prepared.  One could argue that it is because they have more to lose, but I think it is because strength breeds in the face of adversity.  
If you find yourself in a marital dispute with nowhere left to turn, divorce might be the answer. Call us today to schedule a free consultation to get started on the right foot.